Your Partner in Success Download our Brochure
---
We have invested through many economic cycles and understand that
building leading companies takes vision, dedication and patience.
---
Since 1982, Bedford has partnered with outstanding management teams
to build industry leading companies.
We are equity investors in established businesses that typically have between $2 and $15 million of EBITDA. We initially invest between $5 million and $15 million in platform companies that ideally provide additional equity investment opportunities over time.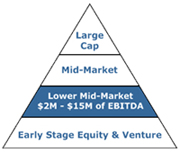 All investment decisions are made internally by the principals of Bedford Capital. We bring our financial resources, contacts and years of experience to each business in which we invest. Our team is comprised of individuals with diverse backgrounds and direct operating experience. We create value by supporting management teams strategically and operationally.

Our track record of successful investing has been achieved by collaborating with management teams and by sharing the financial rewards of success.